As an academic institution in the field of butler service, Tiba focuses on the professional skills training of star Butler. In addition, we also provide customized training for housekeeping, property, sales, clubs, hotels and other industries.
Tiba star Butler course is a series of standard courses in the field of international professional Butler, covering the systematic course training of one star, two star and three-star Butler. The purpose of this course is to cultivate modern housekeepers in the 21st century who keep pace with the times. He / she not only needs to serve the employer, but also needs to play the role of administrative manager, usually in charge of more than $1 million worth of houses or assets of equal value.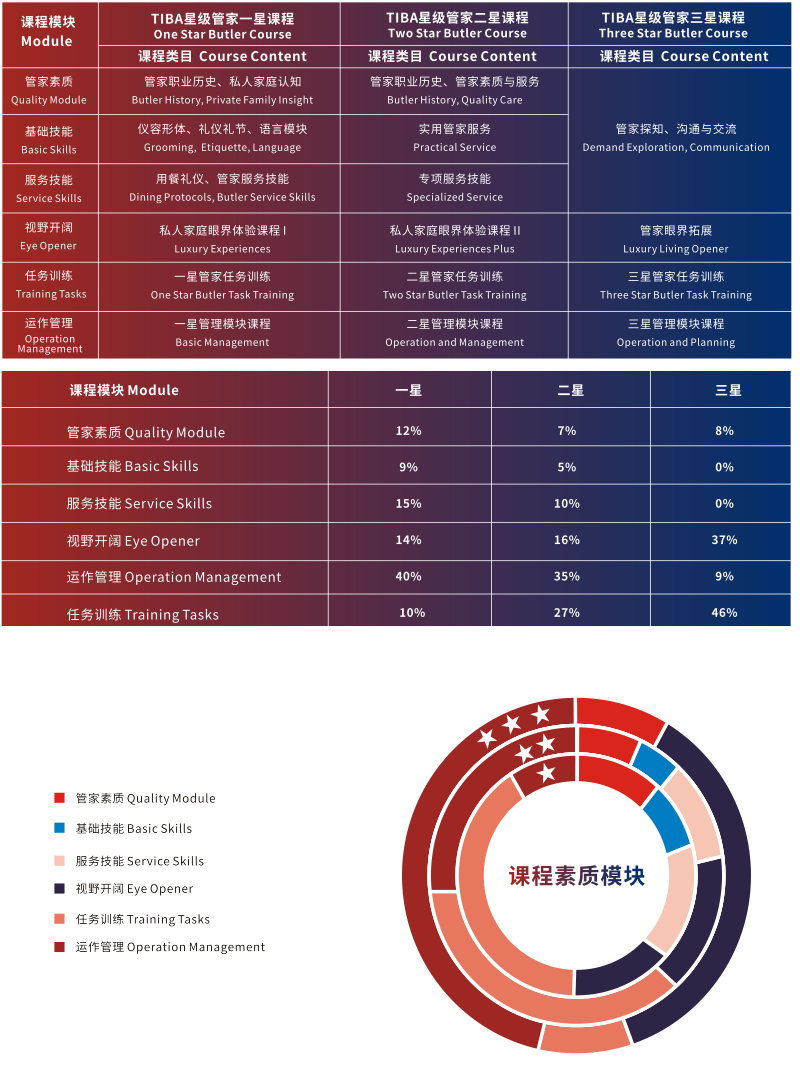 Why choose us
We provide a high-end clubhouse as a training venue for trainees, so that from the moment they enter the school, they will start a career as a butler. Studying here is like serving in a real work scene in the future. We hope to bring students the most authentic teaching and let them adapt to the future working environment in advance. This is why 95% of our students graduate successfully, and 85% of students have obtained valuable positions somewhere in the world.

Our course advantage
We provide students with unique high-end service courses, creating successful learning opportunities for every student, and we are proud of it. TIBAChina provides you with courses that are synchronized with the TIBA headquarters. The training instructor team comes from different countries around the world. They are all experts in this field. They have rich service experience and received rigorous training at the Dutch International Butler Academy.
TIBA·China's training focuses on the integration of Eastern and Western cultural training concepts, and is more suitable for the Chinese market. What we provide are truly high-quality learning programs and learning experiences, which not only allow you to experience and look at "butler service" with a global perspective, but also aim to create a composite service talent who understands both practice and management.

Significance of Butler Training
As a graduate of the International Butler Academy, you are its ambassador, serving with pride and professionalism. In our academy, you will learn to keep up with the needs of a modern, busy and authentic family with confidence, elegance and style. Our intensive training program, 10 weeks, 800 class hours, will provide you with all the skills and qualifications you need to start this exciting career. Our professional teaching standards and experienced tutors, combined with first-class training locations, make the International Butler Academy the crown of all butler, butler management, hotel and service training. There is no doubt that success is not a guarantee. Success requires motivation, dedication, dedication, and the ability to combine energy, passion, and commitment. You must be willing to put the wishes of others before your own, and do so with a sincere desire to serve others.

Our team of mentors
Our mentor team is composed of excellent teachers selected from the Netherlands International Butler Academy, as well as first-class service experts from France, the United States, China and other parts of the world. Each mentor is a professional and experienced butler training mentor in a different field. With an international vision, the TIBA instructor team will bring the trainees industry concepts and service skills that keep pace with the times.